An extraordinary coffee journey
At Cafezal Coffee Roasters, we're committed to curating an extraordinary coffee journey, whether savored in-house or purchased to enjoy at home. We invite you to join us as we traverse the expansive realm of flavors, sustainability, and artisanal craftsmanship, one exquisite cup at a time.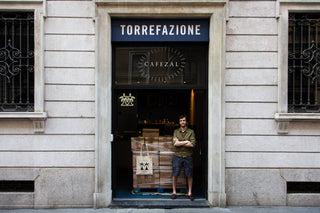 Our Story
We began roasting coffee in 2017 when we filled our first coffee bag! 
In 2018, our journey took its first major stride with the opening of our flagship store on Via Solferino 27, nestled in the heart of Milan's vibrant Brera district.

This marked the inception of our dream to provide the community with exceptional coffee and unparalleled service, all within a meticulously designed space that harmonized aesthetics and functionality.

Fast forward to 2020, a pivotal year that witnessed the birth of our second establishment: Coffee Hub, a sprawling 450-square-meter space located in the heart of Milan at Viale Premuda 14. It's a destination like no other in Europe, encompassing a coffee shop, roastery, kitchen, academy, laboratory, coworking area, and a members-only club. Coffee Hub is more than a mere establishment; it's a temple dedicated to all coffee lovers.

In 2023, we proudly unveiled our third store, a historic boutique that lovingly preserves the aesthetic of the 1910s, while seamlessly integrating Cafezal's contemporary DNA. This addition beautifully encapsulates our journey - a fusion of tradition and innovation that has brought us to where we are today.As we move forward, our vision keeps expanding, leading us to new places, a wider range of offerings, and strong community and industry bonds.

Looking ahead, we're dedicated to building upon the foundation we set in 2018. Unique spaces will continue to be our focus, with Modern Coffee remaining at the core of everything we do.
Our Approach
Cafezal is the word in Portuguese for 'coffee plantation', recalling Brazil as the biggest coffee producing country. We are here to revolutionize coffee culture with life-style. Cafezal combines the Italian way and espresso culture with Latin flair to create a welcoming and refined lifestyle, democratizing specialty coffee.

We're committed to fostering transparent, ethical coffee and food supply chains, consistently curating the finest seasonal offerings from global producers. We share these sourcing stories with you, as we believe enjoyment of food & coffee is more than just consumption, it's knowledge. We take equal pride in the craftsmanship underlying sourcing, production, and presentation.
What We do
We handpick coffee from farmers worldwide, ensuring fresh roast and new crop green coffee. Our carefully selected single origins come from micro lots in Brazil, Honduras, Ethiopia, and beyond. The beans are roasted and brewed in our Milanese boutiques, offering top-quality coffees from each crop.
How We do It
We're involved in every process, from growth to brewing. We work with responsible partners at coffee origins and other suppliers, covering the entire production chain. Our close bond with the families at the plantations ensures transparency of coffee origins.
Why We Do It
As coffee pioneers, we aim to reshape coffee culture through a lifestyle approach. We spotlight local farmers' efforts and the unique attributes of different countries' coffee. Guided by our passion and technology's evolution, our goal is to share this journey with our customers.